The NVCEO
Equestrian's Community Guide 2011
The NVCEO is publishing a printed Community Guide that will be distributed to thousands of horse owners throughout Northern Virginia. In addition to providing information, contacts and resources to region's horse owners, our Community Guide will introduce new horse owners to the activities of the region's vibrant horse community.

BUY YOUR ADVERTISEMENT SPACE NOW!!
Click on the image below to view a "concept" copy of our Community Guide. The content is still in the process of being gathered. All content in the "concept" copy is only displayed to provide you a pattern for the Community Guide. When completed all content in our Community Guide will be rich, full color, valuable and functional.

We will be printing 8,000 to 10,000 copies of the Community Guide. They will be distributed via member organizations of the No. VA Coalition of Equestrian Organizations, as well as available for sale at locations throughout Northern Virginia.

Publishing date is January 2011. Our tentative advertising deadline is Friday, November 19, 2010.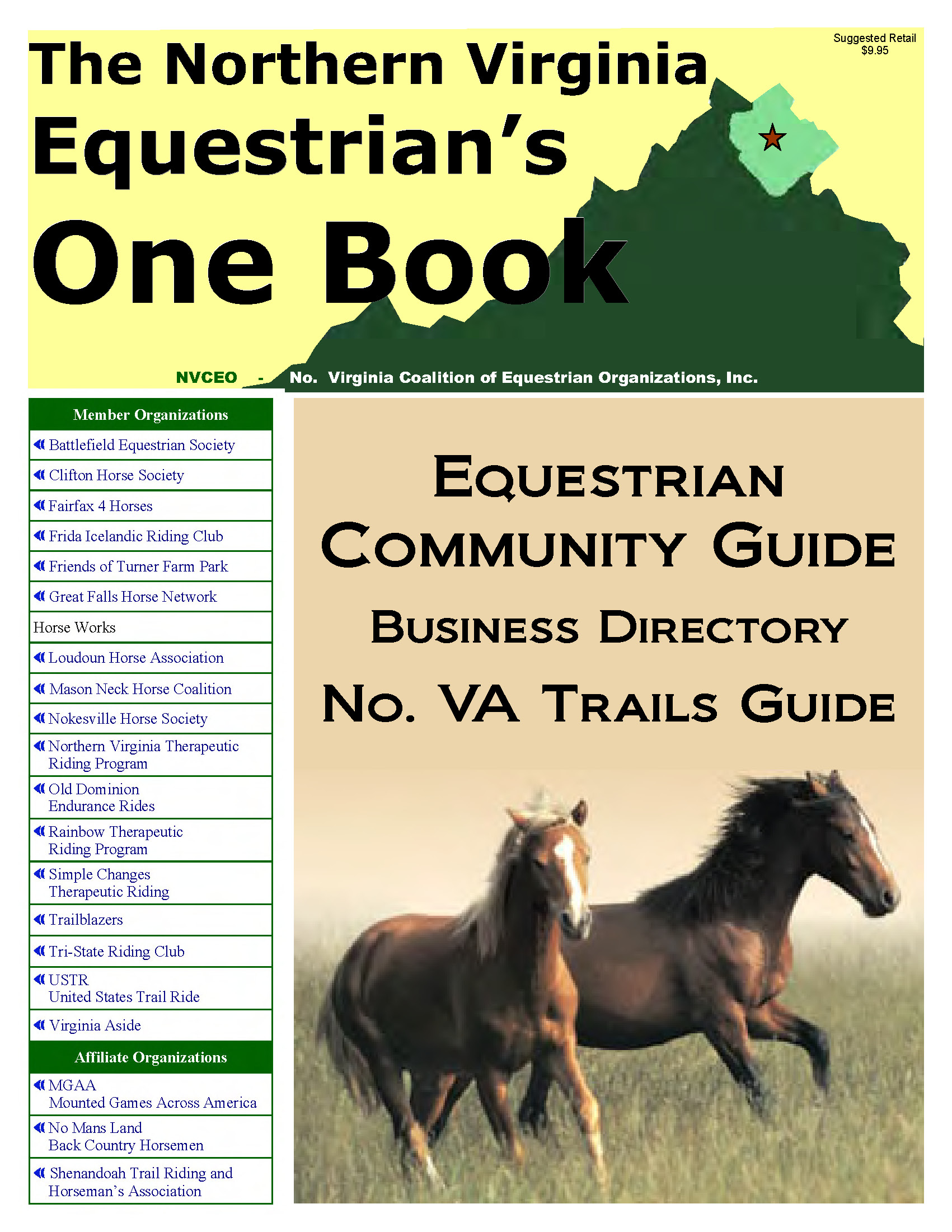 Ad Size

Regular Ad Price for Non-Members

Discount Price for current NVCEO Business Members

Savings with Business Membership

NVCEO Annual Business Membership Fee
(Optional)

Total with NVCEO
new Business Membership

Directory Listing

n/a

n/a

n/a

Directory Listing - Bold

$30.00

$50.00

Directory Listing - Bold Color

$50.00

$50.00

Business Card - Black/White

$15.00

$50.00

Business Card - Color

$22.50

$50.00

Quarter Page - Color

$60.00

$50.00

Third Page - Color

$82.50

$50.00

Half Page - Color

$105.00

$50.00

Inside Rear Cover - Half Page

$112.50

$50.00

Inside Front Cover - Half Page

$127.50

$50.00

Full Page (Inside) - Color

$180.00

$50.00

Inside Rear Cover - Full

$195.00

$50.00

Inside Front Cover - Full

$210.00

$50.00

Rear Cover

$277.50

$50.00

Coupon Ad ($5 per coupon)
(must be purchased in conjunction with another paid ad)

$5.00

All Business Members who purchase a display ad also get a free Color Bold Directory Listing

Purchase of Business Membership in the NVCEO is optional. More information about NVCEO Business Membership can be found here.

A portion of all advertisements will be donated to one of the NVCEO member organizations of your choice. Each member organization is an IRS code 501c3 organization. After your purchase you will be directed to a page to make your "Organization of Choice" selection.

For additional information or questions, please contact Jeff Shoup at 703-402-3726 or jeffshoup@comcast.net.