SPONSORS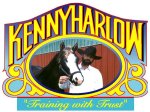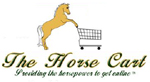 2 Equine Massages with Hope O'Toole of Blackwater Equine (to be auctioned separately)

1 week in Orlando, FL condo

1 week of child's horse camp at Lucky Drive Ranch, to be taken between 7/10 and 7/31 2006

8 Tickets to Equine Extravaganza East, Oct 26-29, 2006 (to be auctioned off individually)

1 Equine Massage with Gayle Delhagen, CESMT and "The Handy Horsewoman"
2 Equine Massages with Christa Wismeth (to be auctioned separately)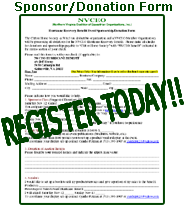 NOVA Equine Hurricane Benefit
November 12-13, 2005
Location: Cavallo Farm
25154 Gum Springs Road
Chantilly, VA 20152
See Mapquest for directions
Join the Nokesville Horse Society, an affiliate of the Northern Virginia Coalition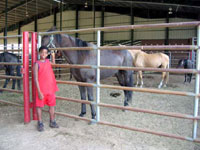 of Equine Organizations, in a fun show to raise money for the equestrians and their equines affected by Hurricanes Katrina and Rita. These hurricanes wreaked havoc in the Gulf Coast area, affecting hundreds of equines and their owners. 100% of the net proceeds from this event will go directly to the recovery efforts. We encourage ANYONE to participate, regardless of discipline or breed. Come on out and enjoy some friendly team competition between barns, clubs, riding groups and friends!

If you would like to volunteer, donate or need more information about this very special benefit, contact:

Cyndie Pittman
Home: 703-393-1907
Cell: 703-409-2745
Email: cyndiep123@yahoo.com
CLASSES AND REGISTRATION
Pre-registration for classes is requested, but not required. Online registration form will be available soon. Classes are $5 per rider. Download Class List and Rules in PDF Format

DAYS EVENTS

Saturday, November 12:
Gaited Classes
Western Pleasure Classes
Fun Show/Gymkhana Classes
Live & Silent Auctions
Judged Obstacle Trail Ride/Course
Pony Rides
Moon Bounce
Special VIP Guests (to be announced)
Equine Massage
Vendors, Food and Fun, Fun, Fun!
Sunday, November 13:
Hunter/Jumper Classes
Dressage Clinic/Demonstration
Time TBA. Check back frequently for more details!
Carriage Driving 101 Clinic/Training 1:00pm
Learn from NHS member Martha Duchnowski, one of the most sought after Carriage Driving Clinicians in the Mid-Atlantic region. She will be conducting a clinic titled "Carriage Driving 101: Through Cones" where you will have your chance at the reins with Martha instructing. This very special clinic begins at 1:00pm on Sunday.
Live & Silent Auctions
Judged Obstacle Trail Ride/Course
Pony Rides
Moon Bounce
Special VIP Guests (to be announced)
Vendors, Food and Fun, Fun, Fun!
Ribbons will be awarded up to sixth place. Champion and Reserve for each division will have a donation made in their team's name to the Equine Hurricane Relief Effort.

CLASS SPONSORS NEEDED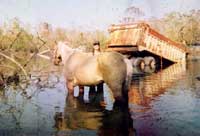 We need sponsors for each class. Class sponsorships are $50 each, and each sponsor will be provided with free advertisement in the ads, show prize lists and will be announced at the beginning of each class. To sponsor a class, contact Jeff Shoup at 703-754-4981 or 703-402-3726. Download the Volunteer / Sponsor Form


DONATE FOR THE CAUSE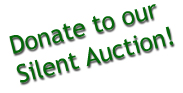 We are seeking donated items for our Live and Silent Auctions. Any goods or services are being accepted as items for our Live and Silent Auctions, including business services, horse items, non-horse items, time shares, etc.

Donations of horse items will be accepted at the event to deliver to horse owners in the Gulf Coast region affected by the hurricanes. A list of requested items will be posted on this website several days prior to the event. Cash deductible donations will be accepted both days of the event. All funds donated will be distributed to horse owners in the affected area throughout the State Horse Councils in the region.

The largest natural disaster our country has ever seen hit the Gulf Coast region with the combination of Hurricanes Katrina and Rita. Many horse owners from Alabama to Texas lost fences, barns, homes even entire farms, as well as some of their horses. Our event is an opportunity for horse people of Northern Virginia to help other horse people in need!

Contact Coreen Moncrief by email or at 703-633-5437 or 703-753-0668

VOLUNTEER TO HELP AT THE EVENT
A tremendous number of volunteers will be needed to ensure the success of this event. To volunteer, please contact Cyndie Pittman at 703-393-1907 or 703-409-2745. Below is a list of just some of the volunteer positions available:
Facility Preparation
Event Set-Up
Parking Attendants
Traffic Control
Welcome Tent/Greeter
EMS/First Aid

Ring Crews
Trail Crew/Obstacle Judge
Participant Registration
Ring Announcers
Breakdown/Event Clean-Up

The Organizations of the NVCEO thank you in advance for your participation!

Battlefield Equestrian Society
Clifton Horse Society
Fairfax 4 Horses
FRIDA Icelandic Riding Club
George Mason Univ. Equestrian Team
Great Falls Equestrian Society
Horseworks

Nokesville Horse Society
Northern Virginia Therapeutic Riding
Old Dominion Endurance Rides
Rainbow Therapeutic Riding
Trailblazers
US Trail Ride
Cedar Creek Mounted Guard

PARTICIPATE IN THE ACTIVITIES (one or both days!)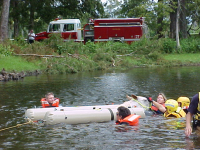 Compete individually or join together with your club, barn, organization or group and compete both days as "Teams". The Team with the greatest number of points over the two day event will receive a donation in their name from our Sponsors. The team with the greatest number of participants or volunteers also receives a donation in their name from our Sponsors!
2 Equine Massages with Hope O'Toole of Blackwater Equine (to be auctioned separately)

$20 hair cut gift certificate from Hair Master in Manassas

Field Boots, size 6.5-7, med-narrow calf

Crosby Olympic AP saddle 16.5" seat

Girl's white sleeveless short shirt, size 10

Girl's black wool hunting coat, size 10/12 by Brittany NY

Girl's white sleeved show shirt, size 10

Saddle, 18 1/2 AP with stirrups and Leathers
Standing Wraps
Women's Hunt Coat
CO Saddlery Natural Ride Brown Suede w/ English Stirrups Bareback Pad
Western Shirts
Leather Noseband & Tiedown
Reinsman Steel Cowboy Bit, Med port w/ sweet iron mouth
Weaver Halter/Bridle w/ curb bit and reins, natural color
Leather Halter
2 Equine Massages with Christa Wismeth (to be auctioned separately)
DVD horse partnerships
Nylon Halter with silver conchos
Jumper Bridle